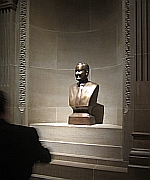 A bronze bust of former Governor Frank O'Bannon was officially dedicated today. It was placed in an alcove outside the Senate chamber on the thrid floor of the Statehouse.
O'Bannon, who passed away in 2003 midway through his second term in office, served eighteen years in the Senate, and then presided over the Senate chamber as Lieutenant Governor for eight years. His father Robert served in the Senate for twenty years before Frank.
The Indianapolis Star has a brief biography of the Governor available here.
Add comment February 13th, 2006