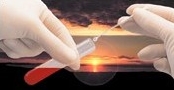 For more than 30 years, the Centers for Disease Control and Prevention (CDC) has performed biomonitoring tests to directly measure individuals' exposure to environmental contaminants. The National Biomonitoring Program's analyses of human tissue, blood, hair, etc., have become the standard for assessing people's exposure to toxic substances. It is a cutting-edge tool that delivers the most health-relevant assessments of exposure because it shows the amount of chemicals that actually get into people's bodies – not just what someone might be exposed to.
This ongoing assessment of the U.S. population's exposure to environmental chemicals is, according to the CDC, an essential component of the National Environmental Public Health Tracking Network.
To help bring the benefit of such analysis to Indiana citizens, I have introduced HB1289. This bill would establish a state program (in conjunction with the CDC) to monitor concentrations of toxic chemicals in individuals to address toxic pollution, and possible homeland security threats from chemical or biological attacks.
The bill establishes a Biomonitoring Advisory Panel (appointed by the Governor) to make recommendations concerning the design of the program, review the prioritization of the selection of certain chemicals or locations for biomonitoring activities, and review the dissemination of findings and reports. The members of the panel must include individuals who have expertise in public health, environmental science, environmental health, epidemiology, biology, toxicology, and endocrinology, and at least three of the members must be physicians.
As stated in the fiscal impact statement to HB1289, the oldest and probably best known biomonitoring initiative is the Childhood Lead Screening Program. The CDC's 1976 biomonitoring study of lead levels in children's blood ultimately resulted in the removal of lead additives from gasoline.
A 2003 article in Salon, entitled "What's in your body's chemical cocktail?," addresses the history of biomonitoring, and its potential for the future:
It's not exactly a new science: The first laboratory analyses of synthetic chemicals in breast milk were carried out back in the 1950s, and researchers have been testing people for high levels of contaminants such as DDT and lead for decades. But this early work focused on people who had obvious reasons to worry, such as those who'd been exposed to massive doses of toxins in accidents or on the job. Modern biomonitoring can suss out much lower levels of contamination, quantifying the chemical cocktail in us average Janes and Joes.
In July 2005, the CDC released its Third National Report on Human Exposure to Environmental Chemicals, a national biomonitoring study released every two years. The study found troubling levels of toxic chemicals, including metals, carcinogens and organic toxics like insecticides, in individuals across the country.
A 2004 study by the World Wildlife Fund's Detox Campaign, entitled "Bad Blood," took a unique approach and measured blood samples from 14 environemntal and health Ministers from 13 European Union countries. They were analysed for a total of 103 different man-made chemicals from 7 different chemical families - including organochlorine pesticides (including Dioxin and DDT), Poly Chlorinated Biphenyls (PCBs), perfluorinated chemicals, brominated flame retardants, and phthalates.
The report states:
The detection of at least 33 different chemicals in every person tested is very significant. Whilst many of the chemicals detected such as DDT, HCB and PCBs have been banned in Europe, several of the chemicals detected, such as phthalates, perfluorinated chemicals and certain flame retardants have not. This highlights that chemicals that have not been phased out are contaminating us to the same extent as older, banned chemicals.
It must be noted that those are from test results in Europe, which follows a "precautionary principle" where manufacturers must demonstrate that a product is safe before it is released. The US has no such standard. In fact, less thant 10% of the 75,000 industrial chemicals in use today in our country have been tested for their effects on humans.
I wonder what the results (and the reaction) would be if we did tests on government officials in Indiana?
After all, our fair state is ranked 9th in the country in total chemical releases covered under the Toxic Release Inventory. We are 8th in the nation in air releases, and 2nd in the nation in water releases. Disturbingly, Indiana is also ranked 4th in the nation in cancer risk.
Not encouraging for someone planning on starting a family, St. Joseph County is ranked 5th in the state among counties releasing recognized reproductive contaminants into the air.
(Another problem on the federal level is the proposed curtailment of information supplied to the Toxic Release Inventory.)
A 2004 article entitled "Chemical Danger" appeared in the eminent UK medical journal, The Lancet. It stated:
Chemicals could be the next tobacco for the World Health Organization (WHO)… There are thousands of artificial chemicals floating around in each individual and… Far from being harmless, as the chemical industry protests, these substances have been linked to several diseases—and children are particularly at risk. "We know these chemicals are contributing to disease in children. This is not speculation. It's fact", says Philip Landrigan, Chair of the Department of Community and Preventive Medicine at the Mount Sinai School of Medicine, New York.
Biomonitoring can help address these issues by applying a scientific framework to them. Documenting exposure, facilitating health impact studies, prioritizing safety assessments of chemicals, and identifying sources of exposure are within our reach. Indiana should take the lead in this area and establish a biomonitoring program.
As the CDC says:
By improving laboratory methods to measure selected chemicals in people; preventing health effects from exposure to toxic chemicals in the environment, and responding to terrorism and public health emergencies involving chemicals, the laboratory has been in the vanguard of efforts to improve people's health across the nation and around the world.
To view the CDC's excellent presentation on the subject, entitled "Biomonitoring: Making a Difference", go here and click on "view the presentation."
Add comment January 16th, 2006