In the final week of session, legislators are focused on the conference committee process. Conference committees are comprised of both House and Senate members that meet to resolve differences in bills that have passed both chambers, but in different versions.
For instance, yesterday the conference committee on HB 1010, the eminent domain bill, met to resolve differences between versions of the legislation that passed the House and the Senate. I am one of four conferees that have been appointed to the committee (there are also seven non-voting "advisor" members). All four Conferees must sign the final conference report before it can be sent back to each chamber for final approval.
Below is a picture taken as the meeting adjourned yesterday afternoon.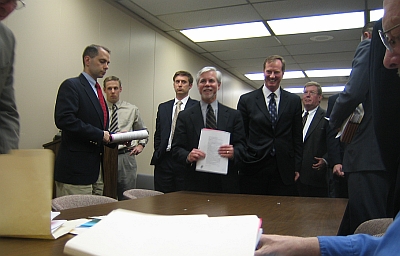 In the case of HB 1010, the meeting went smoothly, and few changes were needed to reach a consensus. The report with the amended bill was circulated to the conferees this morning, and once all four signatures have been collected, the bill will be ready for its final vote.
Conference committees can be very contentious at times, but since both chambers and the Governor's office are all controlled by the same party this year, there has not been much conflict or need for compromise. This is because the Majority in each chamber appoints the conference committee members. If a minority party conferee refuses to sign a report, they can simply be replaced with a more cooperative participant by the Speaker of the House or the Senate Majority Leader.
The last day of session is only one week away, so conference committees are busily trying to finish their work. The most interesting conference report will definitely be for HB 1008 - the "Major Moves" legislation. That committee met for the first time yesterday, and has not yet come to any agreement.
5 comments March 8th, 2006