In the ongoing flooding across the state, communities along the Wabash and Tippecanoe Rivers have suffered the hardest. However, the South Bend region - from Elkhart to Plymouth to downtown South Bend is partly underwater as well.
Here is a photo of Howard Park - the line down the middle of the river is actually the balustrade that runs along the river walk in normal conditions.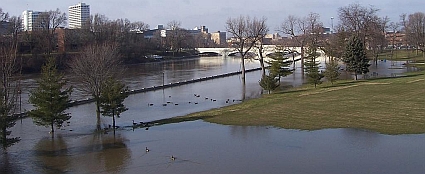 (image from the South Bend Area Blog)
I took this photo on Friday night to try to show the huge volume of water going over the dam downtown.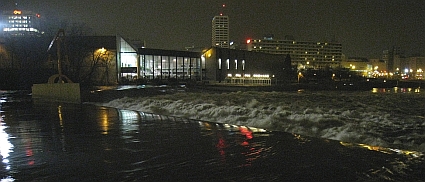 Our house is right on the river across from Leeper Park (which also flooded) - but luckily, on our side the bank is a good ten to fifteen feet up and remained high and dry.
The South Bend Tribune has several image galleries of local flooding online: Gallery1, Gallery2, Gallery3.
Add comment January 14th, 2008