The 2006 Indiana primary elections are now over, and I am happy to report that I prevailed in my own contest with 92% of the vote.
The South Bend Tribune writes:
Receiving an overwhelming majority of the vote, Ryan Dvorak said he was pleased with his results in Tuesday's primary election.

"I thought we'd leave it up to the voters," he said. "I think if you communicate with the voters in your district, they will make the right decisions."

He handily won the Democratic nomination to retain his seat as District 8 state representative…
The Tribune also published the picture below of me and County Council president Rafael Morton chatting at the West Side Democratic Club after the polls had closed.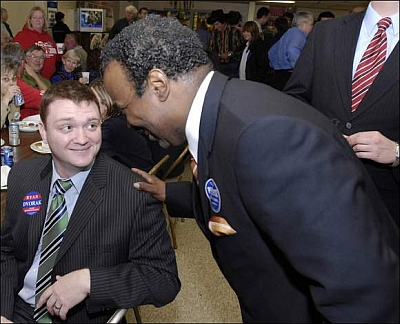 Full coverage of my 8th House District Democratic primary race can be found at:
Dvorak defeats Snyder – South Bend Tribune
Dvorak Wins in Democratic Primary for 8th District Rep. – WSBT-TV (with video)
Dvorak Wins Primary Challenge – Fox 28-TV
Election follies in Roseland – WNDU-TV (toward the end, with video)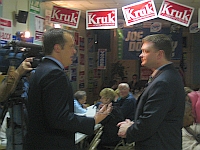 For additional election results, the South Bend Tribune has a full list of local returns available here, and the Fort Wayne Journal Gazette has a listing of statewide contested primaries in Congressional and State Legislative races available here.
Add comment May 3rd, 2006