January 21st, 2007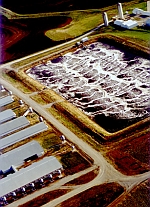 If you aren't sure what exactly a CAFO is, or wonder what all the fuss about factory-scale farms is about, take a few minutes to read this new piece in Rolling Stone called "Pork's Dirty Secret: The nation's top hog producer is also one of America's worst polluters":
"Smithfield's holding ponds — the company calls them lagoons — cover as much as 120,000 square feet. The area around a single slaughterhouse can contain hundreds of lagoons, some of which run thirty feet deep. The liquid in them is not brown. The interactions between the bacteria and blood and afterbirths and stillborn piglets and urine and excrement and chemicals and drugs turn the lagoons pink."
The article goes into graphic detail, focusing on what the factory pork industry has done to the people of North Carolina:
"It was the biggest environmental spill in United States history, more than twice as big as the Exxon Valdez oil spill six years earlier. The sludge was so toxic it burned your skin if you touched it, and so dense it took almost two months to make its way sixteen miles downstream to the ocean. From the headwaters to the sea, every creature living in the river was killed. Fish died by the millions."
Some of the most descriptive passages focus on the unique, toxic stench associated with large operations:
"I've probably smelled stronger odors in my life, but nothing so insidiously and instantaneously nauseating. It takes my mind a second or two to get through the odor's first coat. The smell at its core has a frightening, uniquely enriched putridity, both deep-sweet and high-sour. I back away from it and walk back to the car but I remain sick — it's a shivery, retchy kind of nausea — for a good five minutes."
It's important to recognize that the stench, pollution, and runoff from CAFO's and similar industrial livestock operations are not the normal "farm smells" that most Hoosiers are very familiar with:
"We are used to farm odors," says one local farmer. "These are not farm odors." Sometimes the stink literally knocks people down: They walk out of the house to get something in the yard and become so nauseous they collapse. When they retain consciousness, they crawl back into the house."
Governor Daniels has made development of factory farms in Indiana the centerpiece of his agricultural policy, and many communities across the state are struggling to cope with the science and politics of permitting new operations seeking to locate in their backyards.
The Indiana Department of Agriculture, with the Indiana Land Resouces Council, is currently conducting "listening sessions"to develop model local ordinances regarding land use and zoning to apply to factory farm operations, but the Department of Agriculture's announcement of these meetings specifically points out that the "Indiana Land Resources Council will not consider a farmland preservation program or environmental regulations" as part of their recommendations.
Several bills dealing with CAFO's have been filed this session (inculding HB1197 and SB447 ), and the topic was raised with IDEM Commissioner Easterly at our last Environmental Affairs committee meeting. The Commissioner said IDEM would support a policy of requiring local approval of CAFOs before IDEM issues its permits. However, he also felt it was currently too difficult to discern what exactly would constitute official "local approval." That may be an area we are able to do some work on this session.
For more information, see:
Kemplog - day-to-day coverage of CAFO issues in Indiana
Grace Factory Farm Project - anti-CAFO
Farm Bureau - generally pro-CAFO, or anti-regulation
Journal of Extension - generally neutral research into all sorts of agricultural issues
Entry Filed under: Environment, Agriculture