Back in December, I wrote about the emerging emerald ash borer infestation in Indiana, and how almost 10 million ash trees in Michigan, Indiana, and Ohio had already been destroyed by the insects.
Unfortunately, the South Bend Tribune is reporting that ash borers have now shown up in St. Joseph County:
The Indiana Department of Natural Resources announced at a news conference Monday that the insects have been found in Granger… the preliminary estimate is the insects have been at that site for three to five years.
If you have ash trees in your area that you would like to save, make sure your neighbors are aware of the potential options for treating trees that are still healthy. The image below is linked to an aerial map of the one-mile zone around the latest infestation in Granger: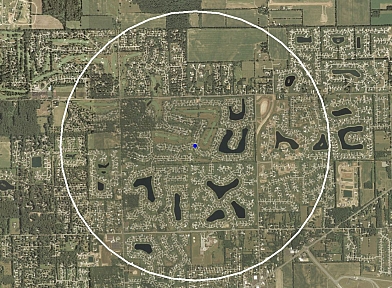 The Tribune article describes how preventative treatment can be an option for some trees:
Jodie Ellis, exotic insects education coordinator for Purdue University, said there is a chance that if an infestation is caught early, treatment with insecticides that contain imidacloprid can stop the damage.

"But if it (a tree) is already infested heavily, it probably will not survive," she said.

It's also up to homeowners to decide if they want to take their chances with a healthy ash tree, use insecticides to protect it or cut it down. Protecting a tree with insecticides can cost from about $50 to $200 a year.
To help stop the spread of this insect, Indiana, Michigan, and Ohio have created a joint website to disseminate more information about the threat at: www.emeraldashborer.info.
Additional information is available below:
Indiana DNR Division of Entomology and Plant Pathology
Purdue Entomology Extension Inormation
National Invasive Species Council
The Global Invasive Species Initiative
3 comments June 13th, 2006