Every year on the Monday after Easter, South Bend, Indiana marks the celebration of a great political and cultural institution - Dyngus Day.
The celebration is a traditional Polish holiday, but was brought to Indiana by Polish immigrants in South Bend 76 years ago. The home turf and "founding mother church of Dyngus Day" is the West Side Democratic & Civic Club.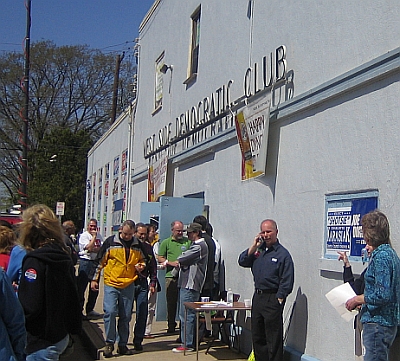 While South Bend claims to be the home of Dyngus Day, and celebrations now pop up across northern Indiana, Buffalo, New York insists on asserting its dubious claim as well.
Because the event occurs so close to the primary elections, Dyngusing long ago became inextricably linked with politics, and Dyngus Day is viewed as the official kick-off to the campaign season.
I took some pictures at the West Side Democratic Club yesterday as local dignitaries, candidates, and even the Washington High School girls basketball team were introduced to the crowd.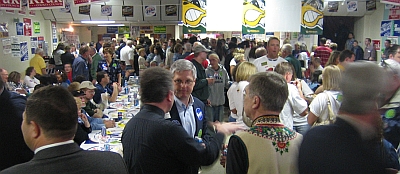 Dyngus Day is a great opportunity to eat good kielbasa and noodles while catching up with old friends at dozens of stops across town.
While Dyngus Day is officially a Polish holiday – celebrated at Polish social clubs across the city, it has expanded to encompass almost every ethnic group in our area. In 1971, the African American community launched the official celebration of Solidarity Day to be celebrated alongside Dyngus Day. The official Solidarity Day headquarters is at the Elks Club on Western Avenue (and the food there is excellent).
The Belgians join in the fun at the BK Club in Mishawaka, and there is also an unofficial Irish "O'Dyngus Day" celebrated at Fiddler's Hearth in South Bend. For the first time this year, there was also an official dedicated Latino celebration of Dyngus Day at the St. Adalbert's Church parish hall.
The traditionally Democratic-leaning festival always draws political candidates from across the state. The most famous guest of honor was Robert F. Kennedy during his 1968 Presidential campaign. Today, Republican candidates also take advantage of the opportunity to greet voters in the festive crowds – but they are still excluded from the stage at the West Side Club.

If you haven't had the opportunity to go Dyngusing, and you enjoy good food and good-natured politics, I highly recommend you visit next time.
For even more Dyngus Trivia, Jack Colwell of the South Bend Tribune has put together a fun quiz entitled "Think You Know Dyngus Day? Prove it."
Add comment April 18th, 2006