March 9th, 2006
Massonís Blog recently had a post on a WNDU story that examined constituent surveys in Northern Indiana that showed overwhelming opposition to the Governorís proposed lease of the Indiana Toll Road.
Many State Senators and State Representatives send out annual constituent surveys to sound out feelings on issues that might come before the Legislature.
I find that sending out my annual survey is a good opportunity to get feedback on general policy topics, and to help spot areas of consensus or contention on specific proposals. My survey also allows room for constituents to communicate their thoughts on other issues not on the list that might be of interest or concern.
The story noted that Senator John Broden (D Ė SouthBend) reported 93% of his constituents opposed the Toll Road plan, and a Republican Senator from Bremen (I assume that was Senator Ryan Mishler) showed 85% opposition.
My own results are similar. Out of 815 responses (received between December 1, 2005 and March 1, 2006), 85% of my constituents are opposed to the Toll Road plan.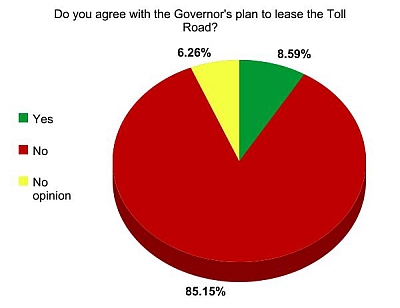 There are few issues capable of uniting so many people in such strong opposition.
It should be noted that that a constituent survey is not a scientific opinion poll. The respondents are self-selecting, which can skew results. However, it is definitely a good indicator of how the public feels about an issue. I imagine a properly conducted poll would show similar results.
For today's latest Toll Road/Major Moves developments, Masson's Blog also has a good roundup here.
Entry Filed under: Community, Transportation