February 20th, 2006
An interesting source of information on the proposed lease of the Indiana Toll Road can be found on the website for the Macquarie Infrastructure Group (Macquarie and Cintra are the consortium whose bid was selected by the Governor).
Macquarie's announcement of their selection as "preferred bidder" states:
"The Indiana Toll Road will be an attractive addition to the MIG portfolio of roads businesses. Significantly, it has a long operating history with solid prospects for revenue growth over the 75 year concession. Traffic has grown over 3.9% per annum since opening. In addition, an attractive toll schedule has been set in place until 2010 after which tolls will increase at the greater of 2 per cent, CPI and nominal GDP per capita growth.

"This acquisition will increase the average concession term, internal rate of return and equity risk premium of the MIG portfolio," Mr Allen said.
The press release contains a link to a presentation (pdf 1.8 MB) and a conference call (mp3 1.9 MB) that accompanies the slides.
There is some interesting information contained in the document, including specifics on the economic performance of the road. While the Governor continues to claim that the Toll Road "loses money," Macquarie shows a net profitability of over $60 million a year.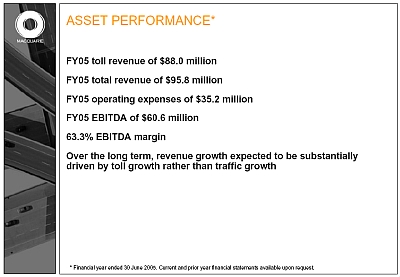 The slides also clearly indicate the projected increase in toll rates – especially increasing after 2010.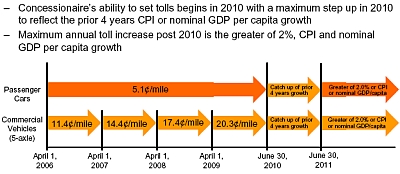 In the conference call, the Toll Road is described as "an attractive asset at an attractive price." The audio is 30 minutes long, but worth the time if you are interested in the Toll Road proposal.
Entry Filed under: Transportation