February 17th, 2006
Yesterday I was able to host a great group of high school students from South Bend who were visiting the Statehouse.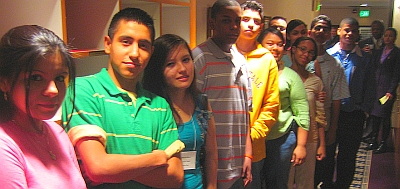 The freshmen and sophomores represented most of our area high schools, and are participating in the University of Notre Dame Upward Bound program:
The program serves all students who meet the first-generation (no one in the immediate family has gone to college) and low-income student in the South Bend community.

Typically, students enter the program in their freshman year of high school and during their three years with the program they participate in the programs' academic tutoring program and Summer Residential Program where they take college prep courses and live on Notre Dame's campus for six weeks.

Students travel to visit colleges across the nation and are provided with the necessary resources and information, both educationally and culturally, to be successful in college.
Notre Dame's participation in Upward Bound dates back to 1966, and has helped to prepare over 5000 students for enrollment in college.
I was able to introduce the students on the floor of the House, and their program director, Alyssia Coates, was given a few minutes to talk about the program to the assembled House members.
If you have a group that is planning on visiting the Statehouse, feel free to let me know if I can help arrange a tour or provide any information.
Entry Filed under: Education, Community, Statehouse