February 15th, 2006
Most business in the House this week is taking place in the committees, as bills that have been sent over from the Senate are being considered.
Yesterday, the Environmental Affairs Committee unanimously passed two bills. SB 22 applies pipeline safety laws to hazardous liquids and carbon dioxide fluid, and SB 146 deals with property transfer disclosure forms.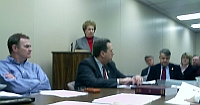 A third bill, SB 234, was held over for a vote at the next committee meeting. The bill deals with several aspects of environmental rulemaking, but it needs a few technical amendments, and Chairman David Wolkins (R – Winona Lake) indicated he would like time to consider more possible amendments for the bill.
Today I will be working in two more committees. The Committee on Courts and Criminal Code has the following bills on the calendar:
SB 5 – Makes disorderly conduct within 500 feet of a funeral a Class D felony.
SB 6 – Modifies several sex offense provisions, including lifetime parole and GPS monitoring for some offenders.
SB 83 – Creates a mandatory D Felony for some classes of resisting law enforcement with a deadly weapon and some motor vehicle offenses resulting in death or injury.
SB 168 – Allows a county prosecutor to refer some Medicaid related crimes to the Attorney General for prosecution.
SB 246 – Expands definition of "sexually violent predator" among other issues. (This bill has been carried over from the last committee meeting and will be amended.)
Later in the afternoon, the Committee on Utilities and Energy will be considering these bills:
SB 69 – Changes governance provisions of rural telephone cooperatives.
SB 72 – Allows the IURC to meet in executive session in some instances.
SB 353 – Creates several incentives and deductions for biodiesel and ethanol.
Some of the bills listed above may end up being held over for additional consideration, pending the outcome of committee discussion.
Entry Filed under: Energy, Environment, Crime & Punish