January 26th, 2006
The extremely high volume of work during session – especially as we approach deadlines in the House calendar - results in Members spending long hours in close quarters with colleagues.
On Wednesday, committees met to consider bills until around 5:00pm. After that, the caucuses met to go over amendments, and then the House went into session - staying there until midnight.
Below is a picture of Members at their desks eating the box lunches that were ordered in so we would not have to break for dinner.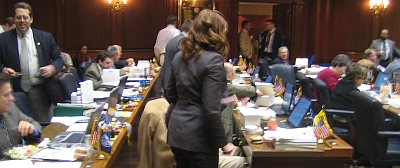 Some of the important bills that were amended on second reading were HB1001 (dealing with many different tax and assessment matters), HB 1010 (eminent domain), and HB1279 (telecommunications).
We also debated and voted on the committee report to HB1008 – the "Major Moves" road privatization bill. The committee report passed by a vote of 50-46, but that was only a preliminary vote. It now moves on to the second reading calendar where it is open to amendment.
The House Democratic caucus also presented an alternative plan to fund highway projects that would raise money without selling off our state assets to foreign investors.
The calendar for Thursday, January 26th is available here.
Entry Filed under: Statehouse