January 24th, 2006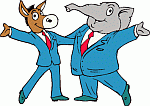 Representative Steve Heim (R-Culver) has posted a link to an article that Representative Win Moses (D-Fort Wayne) handed out to everyone on the House floor today.
The article, entitled, "A Shocker: Partisan Thought Is Unconscious," starts off by stating:
Liberals and conservatives can become equally bug-eyed and irrational when talking politics, especially when they are on the defensive.
Self-identified politically partisan test subjects at Emory University were presented with contradictory statements from candidates they supported and candidates they opposed. MRI brain scans taken of the subjects showed that their evaluations of the statements did not rely on "cold reasoning," but rather on the centers of the brain associated with emotion, forgiveness, relief, and reward.
It is possible to override these biases, Dr. Westen said, "but you have to engage in ruthless self reflection, to say, 'All right, I know what I want to believe, but I have to be honest.' "

He added, "It speaks to the character of the discourse that this quality is rarely talked about in politics."
I was glad Representative Moses took the time to pass the article around today, and I am glad Representative Heim reminded me of it.
Entry Filed under: Statehouse