January 23rd, 2006
On Sunday, I joined Representative John Ulmer (R-Goshen) on the WNIT television show Politically Speaking, hosted by South Bend Tribune columnist Jack Colwell.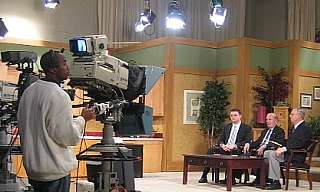 The show is a weekly roundup of political and government news and usually features elected officials from across northern Indiana. This week, the main topic of discussion was the Governor's proposed sale/lease of the Indiana Toll Road.
An excellent source of information on the proposed sale of our state's main east-west interstate highway has been put together by three Indiana newspapers (the South Bend Tribune, the Fort Wayne Journal Gazette, and the Times of Northwest Indiana). You can visit the site at www.tollroadforsale.com. It has a great photo gallery, and a section of charts that highlights potential foreign bidders – from Spain to China.
The South Bend Tribune's individual collection of comprehensive articles on the subject can be accessed here.
I am very impressed to see these three papers joining together to create a central clearinghouse for information on the sale of the toll road on the internet. I feel this is an integral part of journalism today, and shows that newspapers can still be relevant and even ahead of the curve on substantive news coverage.

Selling (or leasing for up to 99 years) the Indiana Toll Road is simply bad public policy. To do so would be selling off billions of dollars in future revenue for a fraction of its actual value. Toll collections over the next 70 years are expected to reach, by some estimates, over $20 billion – assuming regular toll increases over that time period. Meanwhile, the potential bids on the deal are expected to fetch only between $2 billion and $6 billion.
Even if the Governor received a $10 billion bid, Indiana taxpayers would still be forfeiting billions of dollars over the next several generations to some foreign conglomerate.
Building Indiana's transportation infrastructure is definitely a critical priority for our economic future. But there are other, more responsible, tools at our disposal to raise funds when money is tight.
GARVEE bonds, asset securitization, and even reworking existing road plans should all be considered. One of the lowest-hanging fruits could be saving almost a billion dollars by pursuing an upgrade to existing roads to complete the Evansville to Indianapolis I-69 extension (rather than build a new-terrain route).
Details of the bids received by the state should be made public on Monday. Please let me know if you have an opinion you would like to share on this issue.
Entry Filed under: Transportation