The U.S. Department of Transportation (USDOT) has handed down its final decision on time zone boundaries, and St. Joseph County was denied its petiton to be moved into the Central time zone.
Mike Smith of the AP reports:
Gov. Mitch Daniels said repeatedly during his 2004 campaign that it made best sense for most of Indiana to be on Central time but backed off that stance after being elected, saying it should be a local decision.

Daniels, however, in November recommended to federal officials that St. Joseph County remain on Eastern time, saying that it and Elkhart County formed one economic, cultural and social region and should not be split. Elkhart County commissioners decided to remain in the Eastern zone.
Masson's Blog has in-depth coverage of the issue and the history of the debate. He also produced this map showing the new time zone boundaries in the state (pink areas = Central, gray areas = Eastern):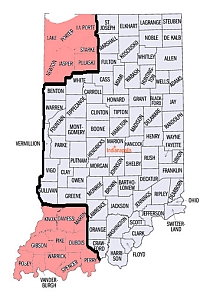 The complete USDOT decision can be read here (pdf - 61 pages).
For more coverage, see below:
The ruling is in: DOT puts St. Joseph on Eastern time - South Bend Tribune
St. Joseph County will stay on Eastern Time - WNDU-TV
Local Lawmakers React to Time Zone Decision - WSBT-TV (on the video, Representative Craig Fry (D-Mishawaka) suggests St. Joseph County could simply ignore the ruling and observe Central time if it so chooses)
1 comment January 18th, 2006