Yesterday was a marathon of second reading amendments in the House. With over 170 amendments on the calendar, the House convened at 10am and, aside from a short lunch break, stayed in session until almost 11pm.
Bills and amendments eligible for consideration are distributed to Members in their mailboxes just off the floor of the House. Below is a picture of a stack of just some of the amendments and bills that were on the calendar for Monday.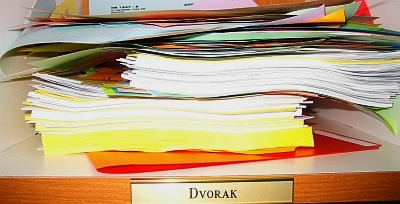 The deadline for filing amendments is just two hours before session convenes. So many amendments were being distributed after session had begun. This is one of the problems with the compressed schedule of the "short" session. Digesting all of the provisions in the amendments is a time consuming task, and the individual caucuses usually must recess for up to several hours just to be able to go over all of the provisions before we vote on them.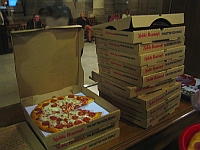 Around 7pm, we were able to take a twenty minute dinner break to line up for pizza that was brought in and stacked along the back of the chamber.
The calendar for today is at least as long as yesterday's, and the Speaker has said we will move on to bills eligible for third reading (final passage) if we finish all of the amendments. So another late night is likely.
One of the most important provisions under consideration will be HB 1008, the Governor's "Major Moves" plan (which I have discussed earlier here and here). Almost 40 amendments have already been filed for that bill alone. One of those is a controversial amendment that seeks to establish a "Regional Development Authority" in northern Indiana that would exclude St. Joseph County:
"My hope was when I read it, there was a misprint. I really couldn't believe one could be proposed without St. Joseph County being part of it," said Mark Egan of the St. Joseph County Chamber of Commerce.
You can watch or listen to the Legislature over the internet while we are in session here.
3 comments January 31st, 2006