December 23rd, 2005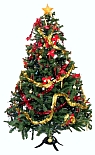 My wife and I will be on the road visiting family and taking time to enjoy the season over the next week - so I plan to take a little time off from updating.
However, I will be back after the New Year, ready to tackle the upcoming legislative session.
Merry Christmas, Seasons Greetings, and a Happy New Year!
Entry Filed under: General