December 22nd, 2005

The town of Decatur, Indiana has decided to cut down 15,000 ash trees in order to slow the spread of the emerald ash borer infestation.
The Associated Press is reporting that the estimated $1 million operation is necessary to eradicate a pocket of the insects that have appeared outside of their natural spread area – likely brought in by transported firewood. The larvae of the insects have already been estimated to have destroyed 8 to 10 million trees – mainly in Michigan, but increasingly in Indiana and Ohio.
If left unchecked, the emerald ash borer could cause the extinction of the ash tree as a species in North America.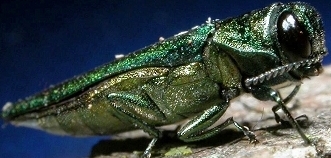 The emerald ash borer (Agrilus Planipennis) is an invasive species that was not found on this continent before June 2002. Its natural range is eastern Russia, northern China, Japan, and Korea, but it most likely came to the US in ash wood used for stabilizing cargo in ships or for packing or crating heavy consumer products.
To help stop the spread of this insect, Indiana Michigan and Ohio have created a joint website to disseminate more information about the threat at: www.emeraldashborer.info.
Additional information is available below:
Indiana DNR Division of Entomology and Plant Pathology
Purdue Entomology Extension Inormation
National Invasive Species Council
The Global Invasive Species Initiative
Entry Filed under: Natural Resources