December 9th, 2005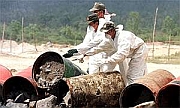 The Environmental Crimes Task Force (ECTF) held its second meeting this week. As I have written about in an earlier post, the ECTF was established to review Indiana's environmental crimes statue (IC 13-30-6-1) and make recommendations for legislation to revise it - including a set of specific statutory standards for determining criminal violations.
On the agenda for this meeting was an overview of Indiana criminal law (pdf) and a summary of how other states handle the prosecution of environmental crimes. The state-by-state prosecution summary (pdf) was prepared by task force member Gordon Durnil, whose service under President George H. W. Bush highlighted his credentials as a conservative environmentalist – an often overlooked political position.
The task force then reviewed existing criminal statutes from other states to prepare for our work on determining Indiana's specific needs.
A substantive discussion on the consideration of criminal penalties focused on the rationales for punishment. Some members expressed the opinion that violations of mere promulgated rules should focus more on restoration of damage caused, or forfeiture of profit gained through violations of rules, as in disgorgement. Others felt that any criminal statue would necessarily deal with more serious violations that would merit more serious punishment.
Mark Stuann suggested adopting a framework for the task force's work that would set three priorities: 1) determine who should have prosecuting authority for environmental crimes; 2) determine specific environmental crimes and their elements; and 3) determine penalties for the specific crimes.
Chairman Kenley agreed this would be a practical framework to adopt. We then discussed working it into a timetable that would result in draft legislation being ready for presentation to the Environmental Quality Service Council by late summer 2006, and a potential bill filing for the 2007 legislative session.
With the upcoming legislative session approaching, the task force will be unable to meet until Spring. The next meeting is scheduled for the end of April, with proposed meetings every month or two after that.
I have already received some constituent feedback on this process, and would be glad to obtain more. Feel free to let me know if you have something you would like to contribute to this process.
Entry Filed under: Environment, Crime & Punish