December 6th, 2005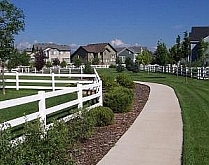 The Granger Paths project to develop a network of multi-use pedestrian/bike paths throughout the Granger area is gaining momentum. Yesterday I mailed a letter to the Indiana Department of Transportation TE program in support of Granger Paths' application for a Transportation Enhancement grant to help fund the project.
If you live in the area and have not had a chance to view the project proposal that was developed in conjunction with Ball State University's Landscape Architecture program, feel free to take a look at it online here (pdf).
The Granger project is just one of many multi-use path projects being developed in our community. The St. Joseph County Parks Department has been hosting a series of regional greenways charettes with local governmental and planning bodies in Indiana and Michigan. The long-term goal is to create a wide network of interconnected paths and trails that extend across the Michiana region.
A map of the potential greenways in St. Joseph county can be seen by clicking on the image below (pdf):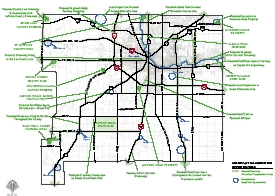 While a large network of greenways is still under development, there are already several existing trails in our area. Among them is the scenic East Bank Trail that runs from the East Race area in downtown South Bend up north along the St. Joseph River.
For more information on trails around the state, the Hoosier Rails to Trails Council maintains a good database of projects and routes across Indiana.
Entry Filed under: Community, Transportation