December 6th, 2005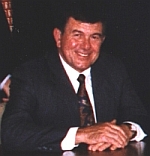 A good friend and a great Hoosier passed away today.
State Representative Jim Botorrff, of Clark County, was an all-around great guy. He represented his constituents with passion and integrity, and treated everyone he met with respect.
My favorite part about Jim was his dry, southern Indiana humor. If I ever walked past his seat on the floor of the House with too serious a look on my face, he was sure to crack a joke that would make me laugh.
We'll miss you Jim.
Entry Filed under: General, Statehouse