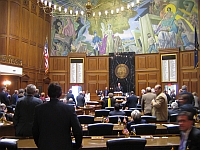 Organization Day for the 2006 Regular session of the 114th General Assembly took place in Indianapolis today. Organization day is a largely ceremonial occasion going into the "short" session because caucus leadership has already been elected and the rules, committees, and other administrative matters have already been organized and adopted.
The one substantial piece of business was the filing of HB 1001, by Representative Jeff Espich (R – Uniondale). This is likely to be the starting point for a broad fiscal package to be developed in the Committee on Ways and Means.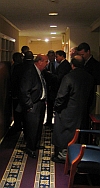 Organization Day is a good chance to catch up with fellow legislators you haven't seen in a while, and each caucus takes the opportunity to outline its goals for the upcoming session in January. The Republican Leadership's press release can be found here, and the Democratic Leadership's agenda can be found here.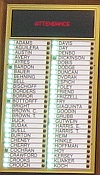 As always, the first order of business after the "Pledge & Prayer" is a roll call to determine attendance (for purposes of establishing a quorum). House Speaker Brian Bosma (R – Indianapolis) then delivered an address to the assembled body, and Minority Leader B. Patrick Bauer (D – South Bend) followed with a speech of his own. The tone for each was generally amicable with expressions of hope for bipartisan cooperation.
All was not entirely harmonious, however. Hundreds of state employees protested layoffs and ongoing privatization efforts down in the north atrium. Their very vocal protest could be heard all the way up on the floor of the House chamber.
The House also rolled out its new and improved internet broadcasting system. It includes different camera angles, title bars, and roll call screens. Internet coverage will even extend to committee meetings – including Ways & Means committee meetings that will take place in December. You can access video feeds for both the House and Senate here.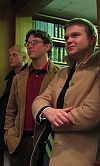 The video quality of the new system seems to be somewhat shaky, but I am sure that can be improved upon. You can watch the webcast of today's events here – and if you fast forward to about 1:09:20 on the feed, you will even see the Speaker wishing me luck on my upcoming wedding.
I was also glad to have three of my brothers able to visit the chamber today. They were able to catch up with some of the members who first saw them serve as pages back when they were in grade school.
1 comment November 22nd, 2005