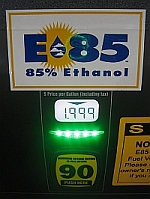 As reported by WNDU, St. Joseph County finally has a gas station selling E85 fuel. The Citgo at the corner of Bittersweet Rd. and McKinley Hwy. is selling the alternative fuel for (as of last night) $1.99 a gallon – almost 20 cents cheaper than gasoline.
E85 is actually 85% ethyl alcohol (ethanol), and only 15% gasoline. You can check here for a current list of E85 refueling locations in Indiana.
As my Ford Taurus is a "Flexible Fuel Vehicle" that can run on E85, I just had to give it a try. Filling up was just like using a regular pump, and the nozzle was clearly labeled to prevent people from accidentally fueling incompatible vehicles.
So far, everything is running smoothly. However, I did seem to notice a dip in fuel economy. A quick check with the Federal Fuel Economy Guide shows that ethanol actually has a slightly worse fuel economy than gasoline:

Just how economical that difference in fuel economy is will depend on the future of gas prices. However, if my car ran on E85 all year, it would end up emitting 2 tons less greenhouse gas than if it had burned gasoline.
For more information, feel free to consult the following resources:
Add comment November 11th, 2005