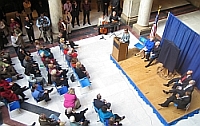 I attended the unveiling ceremony for Governor Joe Kernan's official portrait last Friday in the Statehouse. The entertaining speakers included Maggie Kernan, former Lieutenant Governor Kathy Davis, and Governor Mitch Daniels.
An interesting detail of the portrait is the small seal of the City of South Bend on the desk in the lower left-hand corner. The seal commemorates Kernan's years as Mayor of his hometown.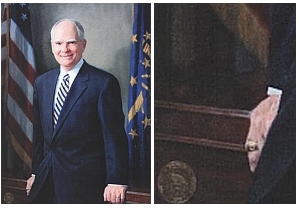 Visitors to the Statehouse can see the portrait for themselves hanging in the public reception area of the Governor's office.
Add comment November 2nd, 2005