October 18th, 2005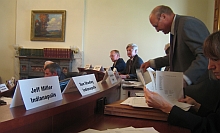 The Environmental Crimes Task Force held its first meeting on Thursday, October 13, 2005. The Task Force is chaired by Senator Luke Kenley, who sponsored the enabling legislation – Senate Enrolled Act 195.
Indiana's environmental crimes statute (IC 13-30-6-1) is the topic under consideration by the committee. The law now simply allows a D felony to be charged for any intentional, knowing, or reckless violation of any Indiana environmental law. The concern is that the statute is so overly broad that it could be found unconstitutional under the void for vagueness doctrine, the rule of lenity, and the fair notice requirement of due process.
In 2002, the Indiana Supreme Court in Healthscript, Inc. v. State (770 N.E.2d 810) found a Medicaid fraud statute unconstitutional on similar grounds. In fact, the environmental crimes statute would probably be considered even more broad and vague than the Medicaid statute that was overturned in Healthscript .
The initial challenge will be determining the scope of the Task Force's job. The first meeting was devoted to examining other states' environmental crimes statutes, and figuring out just how much education the Task Force members need on the issues of environmental code and criminal law before beginning the meat of the work.
We have until November of 2007 to make a recommendation to the Environmental Quality Service Council (of which I am also a member). Ideally, that recommendation would be draft legislation with bipartisan support.
This will be a long-term project that involves a good deal of public testimony from all sectors before a consensus can be reached that will withstand constitutional muster.
Feel free to let me know if you have any input you would like to offer on this topic.
Entry Filed under: Environment, Crime & Punish