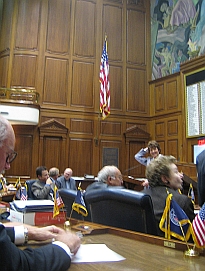 The Sentencing Policy Study Committee met Wednesday afternoon to hear more testimony on community corrections programs. Julie von Arx, the Deputy Commissioner for the Indiana Department of Correction's Re-Entry and Community Programs and Deanna McMurray, the Director of Community Corrections gave an assessment of existing programs.
Community Corrections programs are implemented in 68 counties across the state, and include programs such as Work Release, Home Detention, Day Reporting, and Juvenile Alternatives. A state budget of $27 million funds these efforts with the goal of reducing crime, and diverting offenders from the more costly Department of Corrections prison facilities.
One problem that exists with the program is a lack of statistical analysis and performance measurement. Without any measurement of results, there is no true accountability for the funding that the State provides.
Another issue is that half of the program participants are misdemeanants. If a major justification for state funding of these programs is relieving costs to the state Department of Corrections, perhaps more of the state dollars should be targeted toward adjudicating felons.
Finally, the Committee discussed the lack of integration between various community correction programs, re-entry programs, and community transition programs. Ideally, all of these efforts should be united under one umbrella to manage offenders both diverted from prison, and those returning to the community.
The Committee set a tentative next meeting date of October 28, 2005.
Add comment October 14th, 2005