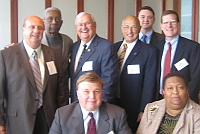 Yesterday I attended the annual Ivy Tech Legislative Luncheon in South Bend along with fellow legislators Rep. Tom Kromkowski (D-South Bend), Rep. B. Patrick Bauer (D-South Bend), Sen. Marvin Riegsecker (R-Goshen), and Sen. John Broden (D-South Bend).
We heard updated information on Ivy Tech's continually improving programs and increasing enrollment. Some of their new courses at the campuses in South Bend, Warsaw, and Elkhart include paramedic science, paralegal, biotechnology, and an AA degree for liberal arts students.
I had a good conversation with attendees about the changing role of the community college in Indiana. Ivy Tech administrators want to know if there are better ways they can increase opportunities for our underprivileged population (who might not otherwise attend a post-secondary school), while continuing to provide valuable vocational skills training.
I told some of them about the meeting I attended before the luncheon. That morning I had met with David Behr, a project manager at the Indiana Economic Development Corporation (IEDC) North Central Region office in South Bend.
The main focus of my conversation with Mr. Behr was the problem of providing service to the smaller companies that need help, but don't have the resources to find it. For example, a small machine shop with 30 employees may not have a human resources director who can apply for grants to pay for half of their training costs. An injection mold company may not even be aware of the people waiting to help them with export assistance, or the team that can help with modernization from the Purdue Technical Assistance Program.
The large companies with support staff know all about the many benefits that Indiana offers, but small businesses – the backbone of our economy – are hard to reach.
My suggestion to the IEDC and to the folks at Ivy Tech was to focus on serving these small business better. It may take more effort and energy to accomplish, but most new job growth in the state comes from existing small businesses. The drive to help our small businesses must be at least as strong as the effort to bring new companies to Indiana.
Some possible solutions may involve further streamlining paperwork requirements for grant applications, or even a more proactive outreach strategy from agencies like the IEDC. If you have any ideas that can help streamline assistance programs for small businesses, please feel free to let me know.
Add comment October 12th, 2005