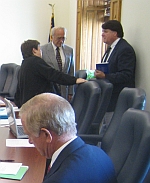 This Monday, the Commission on Courts met in the Statehouse to consider more requests for changes and additions to local judicial systems.
The biggest request was made by the Marion County Superior Court. Judges Jane Magnus-Simpson and Cale Bradford made the presentation with support from John Kautzman of the Indianapolis Bar Association.
Their statistical analysis showed a definite need for new judicial officers. Of particular note was the fact that while St. Joseph and Allen Counties' judicial officers are 100% funded by the state, Marion County has only 60% of its 70 judicial officers paid for with state funds.
Their proposal concluded with a request for four new judges and four new magistrates over the next several years. The Indianapolis Star wrote about the issue here.
Other requests made to the Commission included a new juvenile magistrate for Lake County and a proposal by Madison County to convert their County Courts into Superior Courts.
I was not able to stay for the entire session, as I also had to attend a meeting of the Regulatory Flexibility Committee the same day. I will post about that meeting tomorrow.
2 comments October 4th, 2005