October 3rd, 2005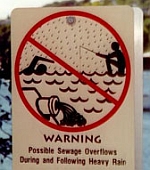 The South Bend Tribune ran an article today that points to an interesting, if somewhat unsettling, internet resource. The Indiana Department of Environmental Management has begun posting details of sewer overflows that happen across Indiana almost every time we have a good rainfall.
Most Hoosiers probably do not realize it, but almost one billion gallons of raw sewage overflows from sanitary systems into our streams, rivers, and lakes every year.
This is an expensive, but necessary, problem to remedy. Last year the legislature passed SB 260, which gave local governments some variances for overflows – provided they have a plan in place for fixing the problem.
Rebuilding sewer systems will cost the states billions of dollars in the long run, but threats to human health (and sanctions from the federal government) demand we take action. SB 260 is a step toward removing sewage from our waterways once and for all.
Entry Filed under: Environment