The Interim Study Committee on Eminent Domain has finished its deliberations for the year. On Thursday we met to make final recommendations for legislation to deal with the ramifications of the U.S. Supreme Court decision in Kelo v. New London.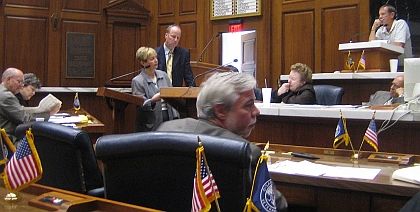 That case essentially held that while eminent domain should be restricted to public use, states are free to decide what constitutes "public use" - including, potentially, private economic development projects.
Groups such as the Indiana Association of Cities and Towns feel that eminent domain is a critical part of their economic development tool box. However, I have felt all along that the property rights - particularly of homeowners - need to be guarded carefully.
As Susette Kelo of the eponymous case says:
If homeowners, small business owners, churches and others are to be safe, state and local lawmakers across the nation should… respect our right to own property rather than cut sweetheart deals with developers who tempt lawmakers with the promise of more taxes and jobs. What we have now at the local, state and federal level amounts to "government by the highest bidder."
…
If the government was taking our property for a road or firehouse, I would be prepared to sell without a fight. But the government should not be able to force me to sell my home so someone else can enjoy my view.
With that in mind, my recommendation to the Committee was to prevent any owner-occupied homes from being designated as an "area needing redevelopment" as set forth in IC 36-7-1-3. That section of Indiana Code is the mechanism by which private property can be declared subject to eminent domain for purposes other than "traditional" eminent domain needs - such as roads and bridges.
My argument, unfortunately, did not prevail. However, in the end, we were able to agree on recommendations that should make it very difficult for any homeowners to lose their property to an eminent domain action being used for "economic development" purposes.
Recognizing that there may be circumstances when a City would need to use eminent domain to rehabilitate truly uninhabitable properties, we resolved to tighten the definition of an "area needing redevelopment" to something that is beyond doubt a "condemnation-eligible" property.
This would prevent a normal home or neighborhood from being placed at risk just because someone thinks its location might be a great spot for a new strip mall.
The Committee also resolved to:
revamp the "just compensation" criteria for property taken in eminent domain actions,
consider limiting eminent domain only to those instances where there is "no reasonable alternative,"
address insufficient attorney's fees for plaintiffs in eminent domain actions, and
specify that "economic development" cannot be defined solely by an increase in tax revenue.

Representative David Wolkins (R-Winona Lake) deserves praise for taking the lead on this issue, as do the rest of the committee members, who all demonstrated bipartisan cooperation and devoted careful thought to this issue.
There will likely be several bills addressing eminent domain in the upcoming session, but the Committee recommendations will be a valuable guide for the deliberations of the Legislature in the upcoming session.
Add comment October 28th, 2005