September 29th, 2005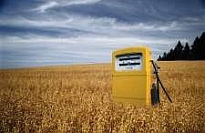 The Environmental Quality Service Council (EQSC) met today to discuss the development of viable renewable energy sources in Indiana.
Our first guest was Andy Miller, Director of the Indiana State Department of Agriculture. He discussed strategies for the development of "Bioenergy" in our state - specifically ethanol, and soy biodiesel. Of particular interest was the proposal for the state's first "Bio-Town" - Reynolds, Indiana.
The people of Reynolds have agreed to take part in a long-term experiment that seeks to make the entire town energy self-sufficient. In cooperation with the Indiana Department of Agriculture, the US Department of Energy, and Purdue University, Reynolds will eventually be converting all of its gasoline, natural gas, and electric consumption to 100% renewable and locally-produced sources.
Another interesting group of presenters was a team of scientists from Purdue University. Representatives from the Laboratory of Renewable Resources Engineering, the Department of Agricultural & Biological Engineering, the Energy Modeling Research Groups, and the Department of Agronomy discussed the latest research in ethanol and soy biodiesel, biofuel additives for jet engines, clean coal technology, and methane/methanol production from waste products.
Paul Pabor from Waste Management discussed his company's landfill gas recovery systems. Vince Griffin from the Indiana Chamber of Commerce talked to the Council about energy production from waste tires.
Eric Holdsworth from the Edison Electric Institute also made a presentation on some of the key points of the 2005 Federal Energy Act, and the impact it could have on Indiana.
The EQSC makes a point of spending a great deal of time on complicated and technical matters that effect environmental policy. My goal as a memeber of the Council is to stay up-to-date on the latest science, research, and administrative regulations that impact the quality of our state's environment. To see past minutes and agendas, visit the EQSC web page.
Entry Filed under: Energy, Environment