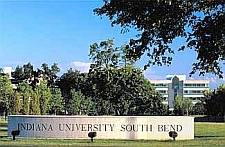 Today I joined legislators from across the region at Indiana University South Bend's annual Legislative Luncheon. The meeting took place in a banquet facility in the school's impressive new Student Activities Center.
Chancellor Reck focused on the university's accomplishments in expanding programs and enrollment, while the legislators emphasized their commitment to improving and expanding IUSB for the future.
One of the priority projects for the near future is renovating the massive Associates Building for use as new instructional and program space.
Representatives and Senators attended from as far as 50 miles away. I was glad to see the support for IUSB, and I think that speaks to the school's importance as a regional academic center and economic growth engine.
September 26th, 2005