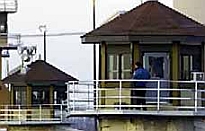 Today's meeting of the Sentencing Policy Study Committee focused on collecting information about the various "re-entry programs" for offenders who are entering back into society after finishing their sentences.
Last year, 14000 offenders were released from state prisons back into our communities. Re-entry programs are designed to reduce the rate of recidivism in these offenders so they are no longer a threat to public safety, and can begin productive lives.
The Indiana Department of Correction's official "Road to Re-Entry" program, is making strides toward becoming more effective. Small changes, such as providing released offenders with valid state identification, can have a big effect by helping them find jobs and housing more easily - and keeping them off the streets.
There are still problems with overall program monitoring. It is difficult to evaluate the effectiveness of the programs when the state does not have access to data on released offenders that re-offend, but only serve time at the county level.
These are the types of problems the Committee is trying to identify, and remedy with suggestions for legislation next session.
The Committee also heard testimony from Porter County Superior Court Judge David Chidester, who requested reconsideration of HB 1055, which was introduced last session. The bill would allow judges to charge a pretrial services fee to people charged with a felony. The fee would pay for their participation in a probationary, pre-trial monitoring program.
The Sentencing Policy Study Committee is comprised of legislators, judges, and corrections and probation officials. The next meeting is tentatively scheduled for October 12, 2005.
Add comment September 23rd, 2005